Here is an article that is very eye opening. Well worth reading. If you agree then go to the link at the bottom of the article and set up your own screening.

A link to the main website: http://www.renewamerica.com/columns/crane/090921
'Not Evil Just Wrong' exposes Al Gore's threatening agenda
September 21, 2009
Al Gore received a Nobel Prize and an Oscar for claiming that humans cause global warming and an "accelerated melting of the north polar ice cap." Given such mantras, many European children fear that polar bears and civilization will be wiped out by floods. Meanwhile, millions of Africans die from malaria because the insecticide DDT is banned in their nations. Now it seems that Gore and likeminded environmentalists think carbon dioxide (CO2), a byproduct of fossil fuels, is the new DDT.
So what does all that mean to Americans? A new documentary by the feisty Irish filmmakers Phelim McAleer and Ann McElhinney explains a lot.
Not Evil Just Wrong
examines the human toll of bad environmental policies with leaders such as Gore's scientific advisor, a Greenpeace founder, human rights activist Roy Innis and green celebrity Ed Begley, Jr., among others. Therefore, the husband-wife team is urging regular people and activists to think globally and act locally.
Not Evil Just Wrong
premiers on October 18 with a worldwide distribution plan for everyone who wants to host screenings.
In this film, Mr. Gore has his say in a series of catastrophic messages. Then we meet John Day, the attorney who represented a parent in suing the British Ministry of Education because it had decided to show all children Gore's film,
An Inconvenient Truth
. Consequently, Britain's High Court of Justice found nine major errors. According to Day, the most egregious scientific error is Gore's exaggeration of reports by the UN's Intergovernmental Panel on Climate Change. He says, "Al Gore gives the impression that sea level is going rise by 20 feet in the very near future. The IPCC talks about 20 feet sea level rises over millennia — over thousands of years — thousands of thousands of years. ... Now that is a very disturbing misstatement of the science."
After that revelation, we hear from scientists who say that changes in arctic ice are a natural phenomenon, certain methods of forecasting climate change are based on false data, and CO2, the natural gas exhaled by humans and other creatures, is essential to all life. Yet there is so much more to this stunning documentary.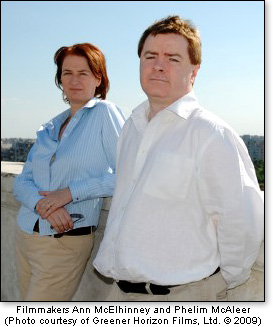 Ann McElhinney said, "We were very happy to have Al Gore in our film, but he refused to be interviewed. This is a very odd way to behave if you care about truth."
Phelim McAleer said, "If there's such an emergency, if the planet's going to die in five years, then get out there. Give press conferences. Talk to people. Debate with your opponents."
They interviewed one of Gore's top scientific advisors, climatologist Stephen Schneider of Stanford University and the IPCC. In the 1970s, Schneider warned of an immanent and devastating manmade ice age, but now he preaches immanent and devastating manmade global warming. After the interview, Schneider withdrew permission and Stanford University lawyers threatened the filmmakers not use their footage. However, they can legally reveal what he said, so they do.
Patrick Moore is a Greenpeace founder and former member (1971-86), plus an ecologist. In
Not Evil Just Wrong
, he guides viewers through the science and typical tactics of environmentalists. Like other scientists in this film, Moore comes to a conclusion about the motives behind popular strategies and it is quite shocking: not because the motives aren't obvious, but because he and others have the authority to expose them.
Donald Roberts, Ph.D., a tropical health specialist and professor emeritus of the Uniformed University of Health Sciences, discusses DDT, which is probably the best weapon against malaria-carrying mosquitoes. In 1962, marine biologist Rachel Carson released the book
Silent Spring
, her unproven thesis that DDT causes cancer or genetic mutation in various creatures. Subsequently, DDT was banned around the globe and Roberts says that estimates of malaria infections are as high as 800 million. McAleer said the estimates of casualties are as high as 50 million. According to BBC News, South Africa stopped using DDT in 1996 and malaria cases shot up to 65,000 in 2000, so it resumed DDT use in 2001. By 2006, the World Health Organization said South African data showed that DDT can reduce malaria transmission by 90%. Thus, the WHO enthusiastically
recommended
DDT for the 107 countries where malaria is endemic. But Ugandans and other Africans still plead for help. In
Not Evil Just Wrong
, Roberts concludes, "[T]he people who say that we don't need DDT, I would have to assume, have an agenda that is separate from the agenda of controlling malaria, reducing death and reducing disease in vulnerable populations."
"There's something going on right now with the scientific method — something that's not healthy," said McElhinney. "We look at the DDT story and it's very interesting what happened. The people who defended Rachel Carson, like Al Gore, continue to defend her despite the science."
McAleer added, "We showed our film to a group of African Americans in Atlanta and they went crazy when they saw the DDT section. They were angry that they didn't know about DDT and no one ever told them about it. They thought it was a conspiracy to keep the problem.
"The point of the DDT section is that the ban has cost the lives of 30 million-plus Africans," he said. "CO2 is the new DDT. We're going through the same cycle and we're going to affect the lives of hundreds of millions — billions — if you ban fossil fuels."
In the film, Roy Innis, chairman of the Congress of Racial Equality, stresses that the DDT bans in developing nations are a human rights issue because people have died and, furthermore, the risk of getting malaria harms the survivors' economies. He says, "I don't believe that the people who oppose DDT are evil people, but they're people who are wrong." Innis also says, "I cannot believe that Al Gore has regard for people — real people."
Then there's Ed Begley, Jr., who stars in "Living With Ed" on the Discovery Networks' Planet Green. In
Not Evil Just Wrong
, Begley claims that Fiji's poor "have nothing" and they are "very happy" to live without electricity. In reality, the squalor is heartwrenching. Furthermore, Begley would have no TV career without electricity, let alone basic necessities such as a refrigerator. Still, he gets teary-eyed over green schemes, but the filmmakers catch him admitting hypocrisy.
"I wanted to look behind the word 'ban,'" said McAleer. "I realized that when you ban something, somebody suffers. The environmental movement opposes building dams, but that deprives people of clean water.
"The most endangered species in Africa is not the lemur, not the lion. It's a five-year-old child in a village," he said. "You have all these people running around trying to cure AIDS in Africa with their red ribbons, but the biggest killer is diarrhea. Try having a benefit dinner to cure diarrhea. What color would the ribbon be? It's not very glamorous, but water treatment plants would save those people."
Of course, water purification plants require electricity, which is usually produced with hydro dams or fossil fuels.
"We have condemned the people of Africa and Asia to pre-industrial farming. Do you want that?" McAleer asked. He said many environmentalists have similar plans for America and it's explored in the film. In fact, the process has begun with congressional bills to burden citizens with high taxes on energy. Next, the government could ban fuels that are necessary for electricity and transportation. In other words, the wrong kind of environmentalism would kill the American way of life.
McAleer said, "There's a theme to the environmentalist push. The answer is always stop America from growing, stop big business. But America is the last hope because your people haven't bought the propaganda. They recognize the madness of driving jobs out of America during one of the biggest recessions."
Phelim McAleer and Ann McElhinney traveled the world in their three-year quest for answers. They said,
"Not Evil Just Wrong
has a very large carbon footprint — we are very proud of that."
The worldwide simultaneous screenings premier is Sunday, October 18, 2009 at 8 PM ET in homes, dorms, clubs , churches and so on. Everyone who wants to host a screening party can order the DVD, movie poster and a red carpet by clicking on the following link:
Not Evil Just Wrong — the true cost of warming hysteria.
© Anita Crane